CUSTOM Minty Orange Pudding Lip Butter
Rs.

950
Rs.

950
( % Off )
Made with : USDA Certified Organic Jojoba Oil, Peppermint Essential Oil & Sweet Orange Essential Oil
Ingredients : Beeswax, Mango Butter, Jojoba Oil
Check availability at:
* For Indian Pincodes only
Minty Orange Pudding Lip Butter
Custom Made Depigmentation!
The aroma is of sweet oranges, but with a hint of minty mischief.
The texture is soft, but not too soft - it melts and spreads on contact with your lips.
Our melt-into-skin lip butters are made with wholesome natural ingredients like mango seed butter, watermelon seed oil and dried herbs and fruits that leave your lips soft and hydrated.


For best results, use after a lip scrub.
We do not use chemical preservatives in our lip butters.
We do not use petrolatum or petroleum jelly in our lip butters. Here's why!
Ingredients:
Cera Alba (Beeswax), Mangifera Indica (Mango) Seed Butter, Simmondsia Chinensis (Jojoba) Seed Oil*, Magnesium Stearate, Skin/Food Grade Fragrances
Shelf life:
3 months from date of handcrafting
Beeswax
Forms a protective humectant barrier on the surface of your skin
Provides a film of protection against irritants while still allowing your skin to breathe
Acts as a skin softening agent for dry, rough lips
Has anti-bacterial and anti-inflammatory properties that help to heal allergic rashes
Mango Seed Butter
Rich in vitamins A, C & E, which work to combat free radicals
Protects skin from sunburn and soothes sunburnt skin
Has antioxidant, anti-inflammatory and anti-ageing properties
Absorbs easily into your lips, and is non-greasy

Simmondsia Chinensis (Jojoba) Seed Oil*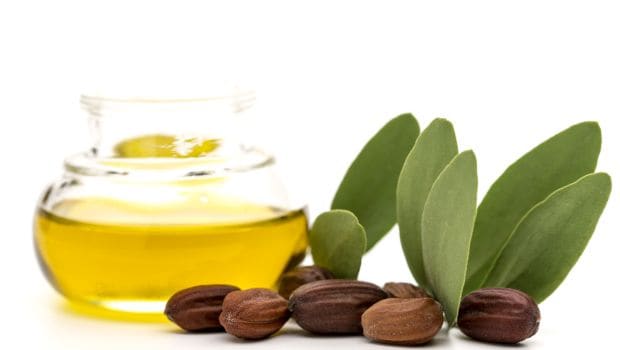 Extraction: Cold Pressed
The ONLY oil that closely resembles human sebum
Has super moisturizing and emollient properties that help with sunburnt skin
Is anti-bacterial, anti-inflammatory and non-toxic
Softens dry and irritating spots and restores your lips to a balanced condition
Mentha Pipereta (Peppermint) Essential Oil*
Extraction: Steam Distillation
Rich in antioxidants and vitamins A, beta carotene, C, K & E
Aids in oil secretion in skin
Has a cooling effect of irritated or sunburnt skin
Prevents skin infections caused due to bleeding lips
Sweet Orange Essential Oil*
Extraction: Cold Pressed
Has anti-inflammatory properties
Regular use helps lighten pigmented lips
Stimulating aroma works as a mood lifter
May be phototoxic if used in excess
*USDA Certified Organic Oil
Photo credit: Grace Chan
We recommend pairing this with:

Orange Crème Caramel Lip Scrub