Ginger Watermelon Sorbet Lip Butter
Rs.

950
Rs.

950
( % Off )
Made with : USDA Certified Organic Ginger Essential Oil & Lime Essential Oil
Ingredients : Beeswax, Shea Butter, Watermelon Seed Oil, Lime & Ginger Essential Oils
Check availability at:
* For Indian Pincodes only
Ginger Watermelon Sorbet Lip Butter
Essential Oils Special Edition!
The aroma is of the start of summer vacations, with a hint of ginger. The combination works, trust me.
The texture is sooo soft, with dollops of shea butter that melt and spread instantly on contact with your lips. The much undervalued watermelon seed oil helps in almost instant absorption, so you ready for the next big thing within seconds.
Our melt-into-skin lip butters are made with wholesome natural ingredients like cocoa butter, watermelon seed oil and dried herbs and fruits that leave your lips soft and hydrated.


For best results, use after a lip scrub.
We do not use chemical preservatives in our lip butters.
We do not use petrolatum or petroleum jelly in our lip butters. Here's why!
Shelf life:
3 months from date of handcrafting
Reviewed by:
"All the products are named after some lip-smacking cafe treats and just a heads up they smell just as divine."
Ingredients:
Cera Alba (Beeswax), Butyrospermum Parkii (Shea) Fruit Butter, Citrullus Lanatus (Watermelon) Seed Oil, Zingiber Officinale (Ginger) Essential Oil*, Citrus Aurantifolia (Lime) Essential Oil*, Magnesium Stearate, Skin/Food Grade Fragrances & Colors
Beeswax
Forms a protective humectant barrier on the surface of your skin
Provides a film of protection against irritants while still allowing your skin to breathe
Acts as a skin softening agent for dry, rough lips
Has anti-bacterial and anti-inflammatory properties that help to heal allergic rashes
Shea Butter
Skin super-food that is naturally rich in vitamins A, E & F all of which protect skin cells from free radicals and environmental damage
Has healing properties as it contains fatty acids and oleic, palmitic, stearic and linolenic acids
Has antioxidant and anti-inflammatory properties
Deeply moisturizing and good for minor cuts and sunburn
Watermelon Seed Oil
Extraction: Cold Pressed
Highly emollient and has superb antioxidant capacity
Anti-ageing properties protect skin from free radicals and delay appearance of fine lines and wrinkles
Has detoxifying and anti-inflammatory properties that work wonders for chapped lips
Rich in linoleic acid and Omega-3, 6 & 9 fatty acids, all of which promote healthy skin
Ginger Essential Oil*
Extraction: Steam Distillation
Is a powerful reenergizer and mood enhancer
Has antibacterial properties that help heel chapped lips
May help ease feelings of nausea and motion sickness
May be phototoxic if used in excess
Lime Essential Oil*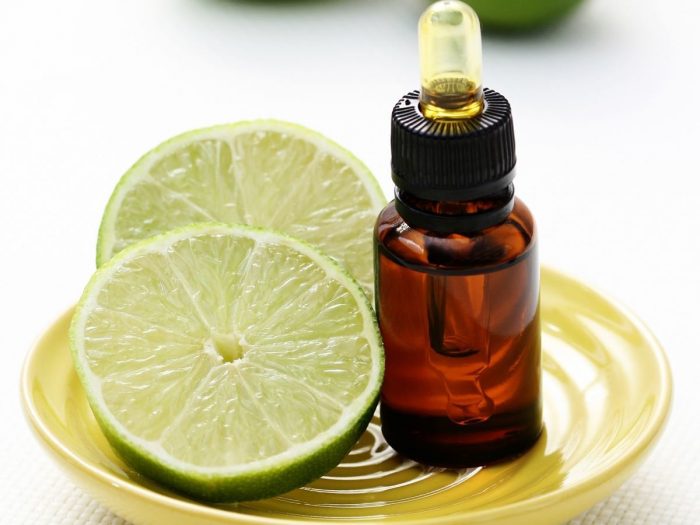 Extraction: Cold Pressed
Is a powerful antioxidant
Has mood uplifting and energizing and stimulating properties
Promotes emotional balance and well-being
Has antibacterial and antiseptic properties that help prevent worsening of chapped and bleeding lips
*USDA Certified Organic Oil
Photo credit: Michael Fletcher
We recommend pairing this with:

Cinnammon Roll Lip Scrub