Tiramisu Lip Scrub (Vegan)
Rs.

950
Rs.

950
( % Off )
Made with : USDA Certified Organic Sesame Seed Oil
Ingredients : Arabica Coffee Beans, Sesame Seed Oil, Cocoa Powder
Check availability at:
* For Indian Pincodes only
Tiramisu Lip Scrub (vegan)

My Morning Coffee!
The aroma is a complex yet pleasing mix of coffee beans, chocolate, allspice and real cocoa powder. This one will wake you right up.
The texture is soft and creamy, heaped with super emollient sesame seed oil, and Turkish grind pure Arabica coffee beans.
Our gentle-on-skin lip scrubs are made with mild natural exfoliants like organic cacao bean nibs and coffee grinds infused in hydrating butters and plant-based oils like shea butter and jojoba oil that leave your lips shockingly soft and clean.


For best results, scrub gently 2-3 times a week, wash off (preferably with warm water) and follow with a lip butter or lip tint balm.
We do not use chemical preservatives in our lip scrubs.
We do not use microbeads in our lip scrubs. Here's why!
Shelf life:
3 months from date of handcrafting
Reviewed by:
"The scrub is natural and delicious and you may be tempted to lick it off."

Ingredients:
Coffea Arabica (Coffee Beans) Seed, Sesamum Indicum (Sesame) Seed Oil*, Theobroma Cacao (Cocoa) Powder, Skin/Food Grade Fragrances
Arabica Coffee Beans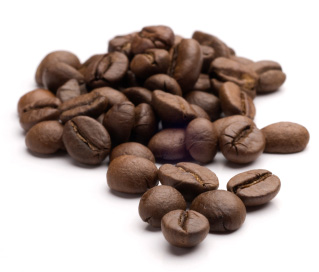 Provides an effective alternative to sugar as an exfoliating agent

Extra fine Turkish grind is gentle on dry, chapped lips
Leaves your lips deliciously soft and glowing
Energizing aroma wakes up all senses
Sesame Seed Oil*
Extraction: Cold Pressed
Rich in antioxidant vitamin E, D & B complex, which protect skin cells from damage over time and delays appearance of wrinkles
Contains linoleic, stearic, and palmitic acids, that make it super moisturizing and emollient
Helps in detoxification of skin and repair of damaged skin cells
Has anti-bacterial properties that help heal skin rashes
Real Cocoa Powder
Packed with antioxidants that help repair skin cells and neutralize harmful free radicals
Real Cocoa powder contains more than 300 compounds, many of which have a positive effect on your brain chemistry
Leaves your lips deliciously soft and glowing
Smells of chocolate… need we say more?
*USDA Certified Organic Oil
Photo credit: Armagan Orki
We recommend pairing this with:

Sticky Toffee Pudding Lip Butter